2019 Chevrolet Trax vs Ford Escape
---
Fuel Economy: 2019 Chevy Trax
There's only a single engine option for the Chevy Trax, so every one of them houses the 138-horsepower 1.4-liter turbocharged inline-4 generating 148 pound-feet of torque. When looking at those horsepower numbers, it's important to remember two things. First, the Trax is a lightweight compared to the Ford Escape, so the Trax will require less power to get it moving. Second, a turbocharged engine makes the very most of the available horsepower, so turbos do more with less. As it turns out, their engines amount to the same thing, since the Trax and the Escape both go from zero to 60 in 9.3 and 9.2 seconds respectively.
The Trax gets a consistent 25 city miles and 33 highway miles per gallon for front-wheel drive, or 24 city and 30 highway mpg with all-wheel drive. Meanwhile, the Ford Escape gets 21 mpg in the city and 29 mpg on the highway. That's below average for its larger class but the Ford's fuel economy looks pretty dismal next to the Trax's numbers.


Dealership Info
Mon - Fri

9:00 AM - 6:00 PM




Sat

9:00 AM - 5:00 PM




Sun

Closed
Mon - Fri

7:00 AM - 5:00 PM




Sat - Sun

Closed
Mon - Fri

7:00 AM - 5:00 PM




Sat - Sun

Closed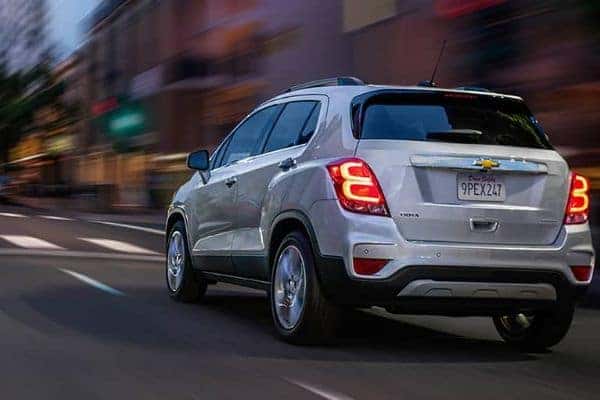 Price: 2019 Chevy Trax

---
Another perk of buying a subcompact over a compact is you save, not just at the pump, but also at the dealership. The 2019 Chevy Trax starts at just $21,200 and comes standard with MyLink infotainment system, which boasts a 7-inch touch-screen display, Android Auto, Apple CarPlay, Wi-Fi hot spot, Bluetooth, two USB ports, and six-speaker audio system.

The 2019 Ford Escape starts at $24,100. So what do you get for your extra two grand? Well, there's a six-way manually adjustable driver's seat and MyKey. But the base infotainment system is inferior and on a much smaller 4.2-inch screen with one fewer USB port. So we're not sure why there's a difference in price, except that the Escape is bigger. It's up to whether or not that extra space is worth the bigger price tag.

Cargo and Passenger Room: 2019 Ford Escape

---
You're probably wondering how much space we're talking about. Exactly how much bigger is the Escape and how will that affect my life? The Escape is about ten inches longer and five inches wider, but about the same height as the Trax. So you won't lack for headroom in the Trax. But front seat occupants have about 3 fewer inches of legroom and back row passengers have 2 inches less in the Trax compared to the Escape.

Cargo room is where you really feel the squeeze. Behind the back row, there's 18.7 cubic feet in the Trax while there's 34 cubes in the Escape. Fold the back seats down and that expands to 48.4 cubes in the Trax and 68 in the Escape. Obviously, if space is a must-have, the Escape or one of the many other SUVs in its class is a good idea. For all others, the Trax will save you money at the pump and dealer without sacrificing power, quality, or tech options.