Should You Choose a Suburban or a Tahoe?
---
The Price Gap
Actually, there isn't much of a gap here. Both the Chevrolet Suburban and Tahoe have similar starting prices. The Tahoe starts at $48,000 and the Suburban follows close behind with a starting price of $50,800. Choosing the right model really comes down to your personal SUV needs, like cabin size and towing capacity.

Sporty Utility
Both of these Chevys are truck-based SUVs. That means they're built for rugged performance, and they're especially good at towing. The Tahoe has a slight edge here, towing max loads of 8,400 pounds. However, coming in close behind with max loads of 8,300 pounds, the Suburban is almost equally capable of towing a huge boat or double horse trailer. (If your camper weights 8,350 pounds, you'll need the Tahoe, but most drivers will find both SUVs up to snuff.)



Dealership Info
Mon - Fri

9:00 AM - 6:00 PM




Sat

9:00 AM - 5:00 PM




Sun

Closed
Mon - Fri

7:00 AM - 5:00 PM




Sat - Sun

Closed
Mon - Fri

7:00 AM - 5:00 PM




Sat - Sun

Closed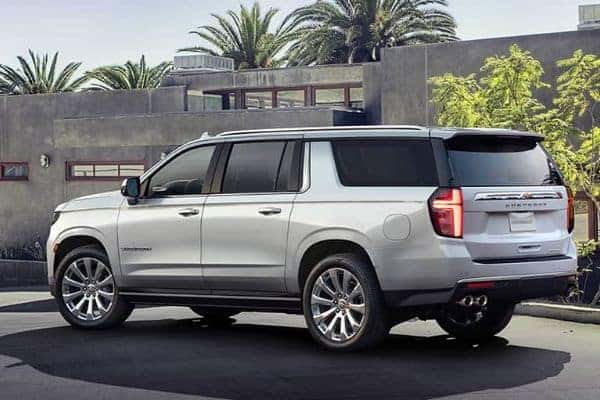 Size Matters

---
Both the Chevy Tahoe and Suburban are the kind of rugged SUVs that big families can appreciate. Which means, of course, that these models deliver three rows of comfy seating and plenty of cargo space. But, although they're both gigantic, one of these Chevys is actually bigger than the other. The Suburban is the largest of the pair, making it the right choice for big families who like to bring a whole lot of cargo along for the ride. Compared to the Tahoe, the Suburban offers a roomier third-row seat and more space for your stuff. Behind the rear seats you'll find 39.3 cubic feet of cargo space for all your camping gear. Flip down the rear rows, and there's an incredible 121.7 cubic feet for whatever you need to haul, be it random garage sale finds or boxes of unassembled furniture.

The Tahoe is still a huge SUV-it's just not as huge as the Suburban. Inside, your big family won't lack for leg-, head-, or elbowroom-that's for sure. Behind the Tahoe rear seats, there are 15.3 cubes of cargo. That's plenty of space for a big family's worth of groceries and mall hauls. Flip down both rear rows for 94.7 cubes' worth of max hauling.

What's Under the Hood?

---
Here, the Suburban and Tahoe have everything in common. Both deliver superb acceleration and sporty towing power with their base 5.3-liter V8. The engine is rated for 355 horsepower and 383 pound-feet of torque, so you'll never feel like your big Suburban/Tahoe is lacking any punch.
But wait-there's more. Both the Suburban and Tahoe offer a new, top-of-the-line V8 engine. It's bigger-6.2 liters-and increases output to 420 horses and 460 pound-feet of torque. That's some serious heft. This engine is part of the RST Performance Edition package, available for both Chevy SUVs.